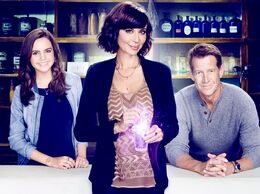 Good Witch is a Hallmark Channel original American drama television series that is based on the made-for-TV movie series. The series premiered with 2-hour episode on February 28, 2015, and is slated for an eight-episode run with both the premiere and finale episodes are 2 hours.
Catherine Bell reprises her role of Cassie Nightingale in this series based on "The Good Witch" franchise of made-for-TV movies. Nightingale, the titular sorceress, embarks on a magical journey with her teenage daughter Grace, who shares her mother's intuitive charm. When divorced Dr. Sam Radford and his teenage son move next door, they are quickly drawn to the Nightingales' unique prowess. Sam realizes that Cassie's signature charm is more than just a magic touch, ensuring the quaint town of Middleton is in for big surprises.
Starring
Edit
Co-Starring
Edit
Awards and Nominations
Edit
Year
Type of Award
Name of Award
Recipient(s)
Status
2015
The Joey Awards, Vancouver
Best Actor in a TV Comedy or Action Featured Role
Rhys Matthew Bond
Nominated
2015
Directors Guild of Canada
DGC Craft Award
Sound Editing - Television Series
Alex Bullick (SFX Editor)
Nelson Ferreira (Dialogue Editor)
John Douglas Smith (ADR Editor)
Rose Gregoris (1st Assistant Sound Editor: For episode 101, "Starting Over...Again")
Nominated
2018
ASCAP Film and Television Music Awards
Top Television Series
Good Witch cast
Michael Berec (composer)
Hallmark Channel (network)
Notes and Trivia
Edit
Hallmark approached Catherine Bell after she finished filming Army Wives in the hopes that she would accept their offer to turn the movie franchise into a TV series, and she graciously accepted.
Catherine Bell's favorite part of the show is that her kids can watch it and so can other adults. This is due to the lightness of the show and the fact that people can watch it and feel better at the end of the show.
Chris Potter was unavailable for the series, which led to the introduction of James Denton's character.
The original Bell, Book & Candle set was torn down, so the crew rebuilt it as a bigger and brighter set.[1]
The crew also rebuilt Grey House as a set, due to the original filming happening in an actual house in Hamilton. The house in Hamilton is still used for exterior shots.[2]
The Grey Lady painting was redone for the series.[3]
External links
Edit
References
Edit